Transform Your Life with ChatGPT-Driven Insights for Mental Well-being, Health, Financial Success, and Personal Growth
Discover the secrets to a happier, healthier, and more successful life with the help of cutting-edge AI technology! In this exclusive eBook, you'll learn how to harness the power of ChatGPT and other text generators to improve various aspects of your life, from mental well-being to financial success.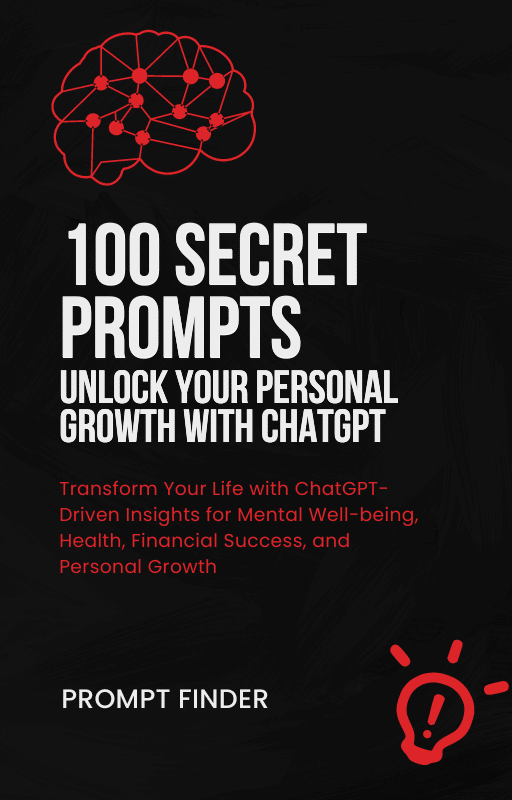 Revolutionize your personal growth journey using ChatGPT and other text generators. Grab your 100 essential prompts for FREE today and transform your mental well-being, health, productivity, and finances. 
Don't wait – get your FREE life-changing prompts now!
Our 100 Prompts covers a wide range of topics, including:
Boosting mental well-being through daily habits, gratitude, stress management, and more.
Enhancing health and lifestyle by adopting regular exercise, self-care routines, and healthy habits.
Accelerating personal growth and development with work-life balance, embracing failure, and cultivating a growth mindset.
Unlocking productivity and time management secrets to help you achieve your goals more efficiently.
Mastering financial well-being with techniques for budgeting, saving, and investing.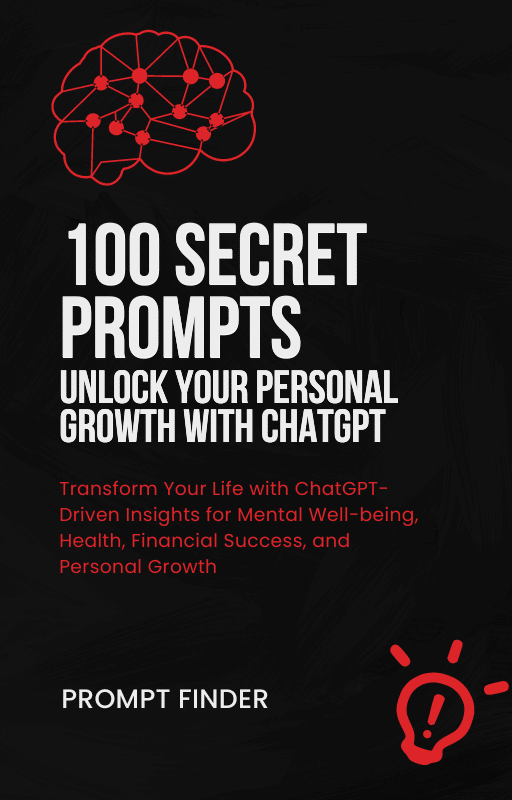 Sign Up to Get Your Free Prompt List
By clicking "Get Access Now," you agree to our Privacy Policy and consent to receive occasional emails about our latest eBook releases, blog posts, and special offers. You can unsubscribe at any time.
After Using Our Prompts, You Can Expect to:
Boost your mental well-being and happiness
Develop healthy habits for a balanced lifestyle
Enhance your personal growth and development
Improve your productivity and time management skills
Strengthen your financial well-being and decision-making
Cultivate mindfulness and stress reduction techniques
Build better communication and relationship skills
Foster a growth mindset and embrace failure as a learning opportunity
Discover effective goal-setting strategies for personal and professional success
Create a strong support network for continued progress and accountability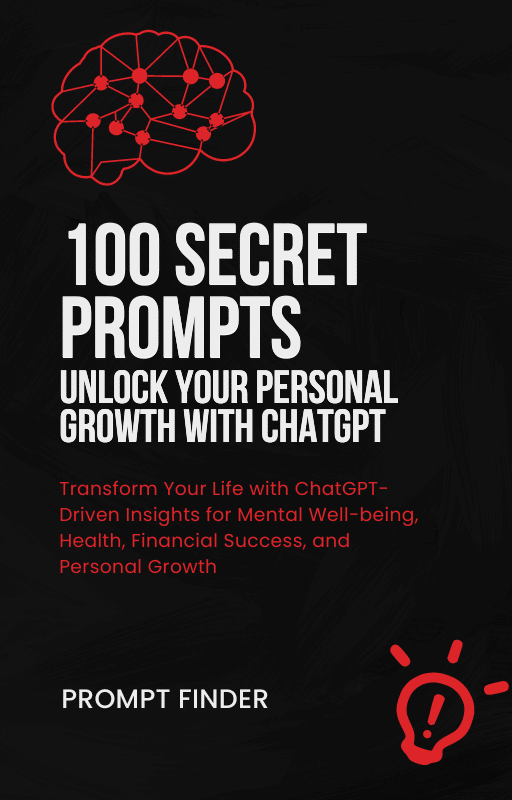 Sign Up to Get Your Free Prompt List
By clicking "Get Access Now," you agree to our Privacy Policy and consent to receive occasional emails about our latest eBook releases, blog posts, and special offers. You can unsubscribe at any time.
A Short Guide on How to Use Our Essential Prompts
Step 1: Choose a Category
Select one of the five categories (mental well-being, health and lifestyle, personal growth and development, productivity and time management, or financial well-being) to focus on initially.
Pick a prompt from the chosen category that resonates with you or addresses an area where you would like to see improvement. Copy and paste it into ChatGPT

Step 3: Reflect and Brainstorm
Take a moment to reflect on the chosen prompt. Consider your current habits, thoughts, or actions related to the topic. Write down any ideas or insights that come to mind.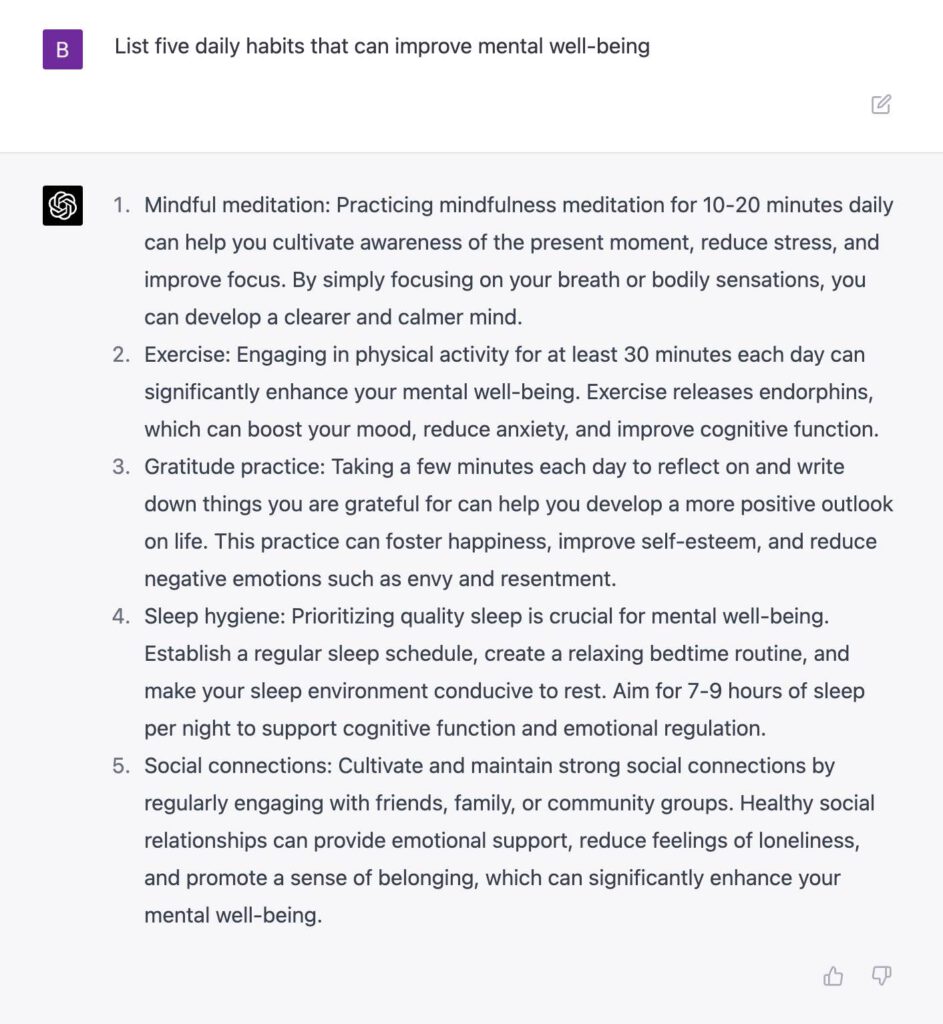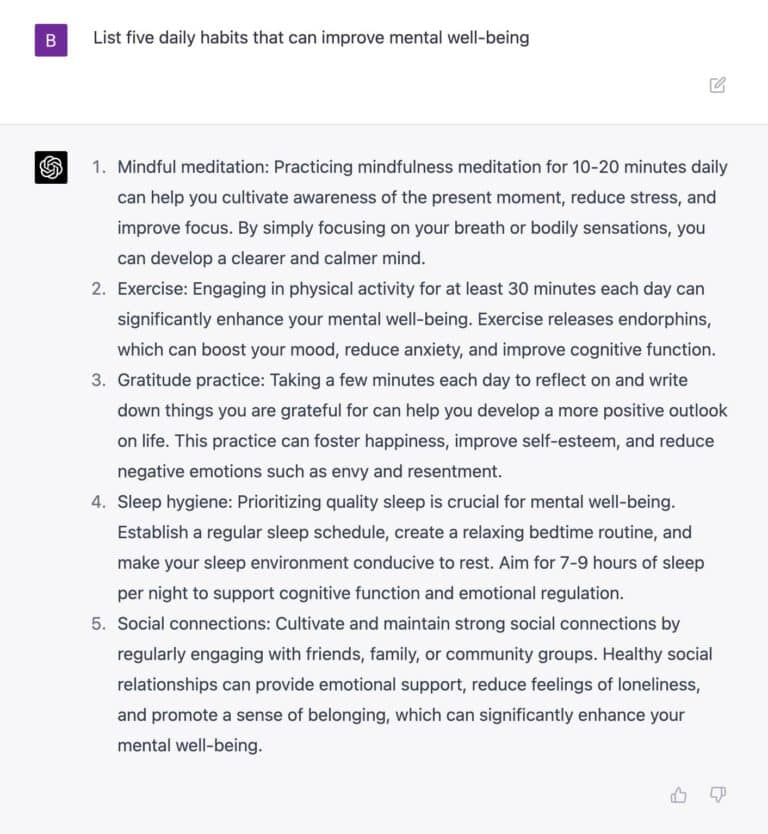 Step 4: Set a Goal or Action Plan 💪
Based on your reflection, set a specific, measurable, attainable, relevant, and time-bound (SMART) goal or create an action plan to address the prompt.
Step 5: Implement and Track Progress ✍️
Put your plan into action and track your progress regularly. Adjust your approach as needed to stay on track with your goal
Discover all 100 Secret Prompts!
Don't hesitate to download our Essential Prompts for Personal Growth and Success! We've carefully curated these prompts to provide you with valuable insights and guidance, all at no cost. This is a risk-free opportunity to unlock the power of AI-driven knowledge and transform various aspects of your life.
Give yourself the chance to experience greater well-being, happiness, and success by downloading and exploring these prompts today. Your journey to a better you starts now!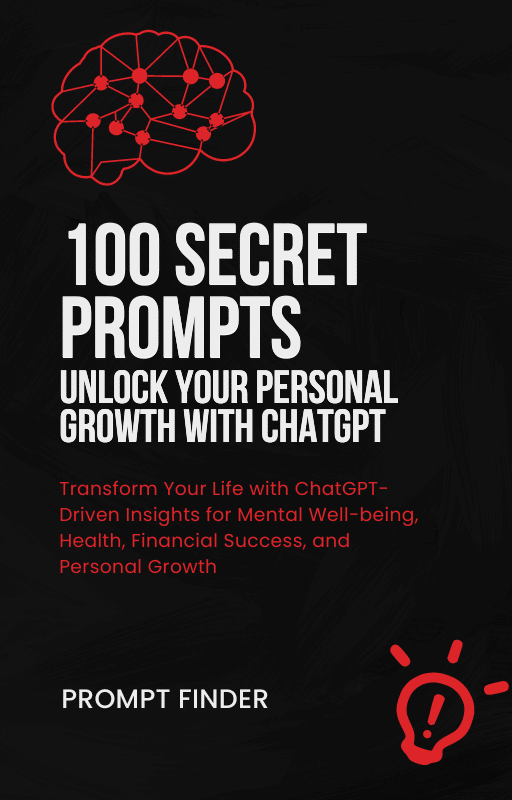 Sign Up to Get Your Free Prompt List
By clicking "Get Access Now," you agree to our Privacy Policy and consent to receive occasional emails about our latest eBook releases, blog posts, and special offers. You can unsubscribe at any time.